The Dos and Don'ts of Long-Distance House Hunting
Posted by Dwight Streu on Tuesday, January 17, 2023 at 4:28 PM
By Dwight Streu / January 17, 2023
Comment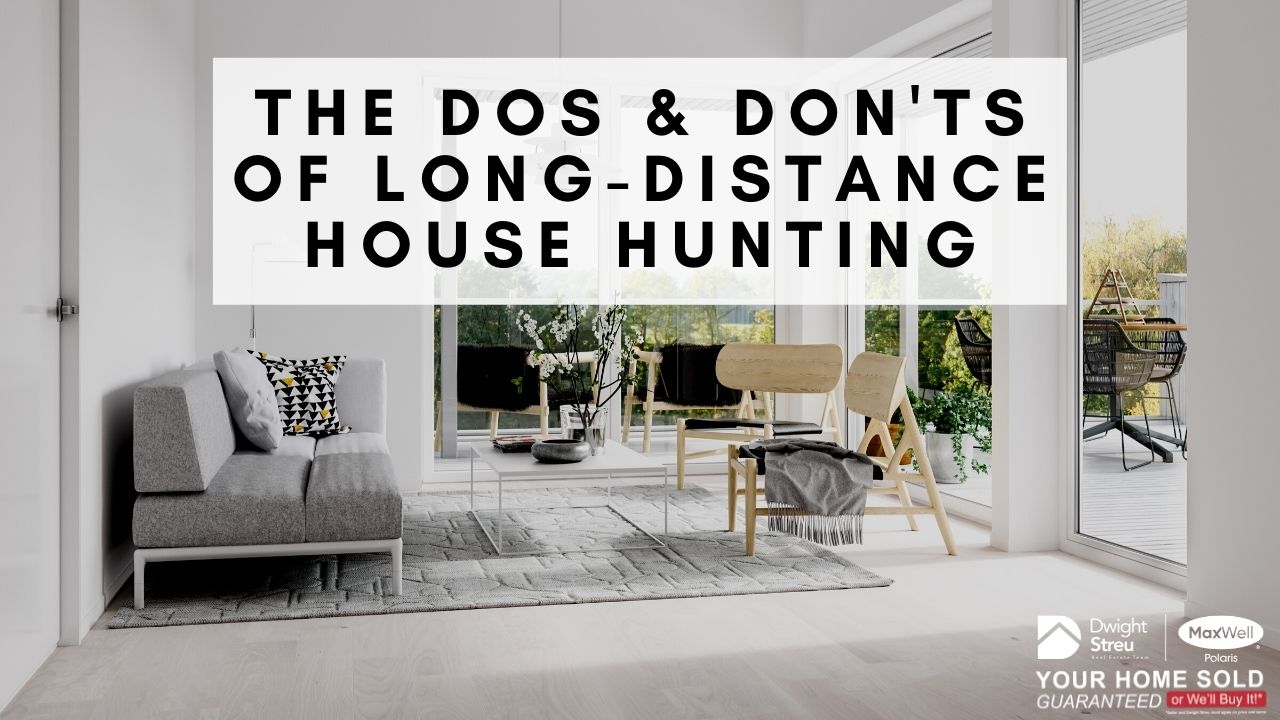 Even when searching for a house locally, it will take a lot of searching, checking, and thinking. And it's only natural. Buying a home is a considerable investment. For most, it is the most significant investment they will make in their lives. You have to ensure you make the right decision and purchase a home in a neighborhood that suits you and that the house itself is in good condition and satisfies your needs. So, when you have to buy a new house remotely, you can expect it to be more complex. Still, there's no need to feel discouraged. Many people have successfully gone through the experience of long-distance house hunting before you.
Although you will face some challenges and have many questions, there are some tips to follow that will help you achieve your goal. To begin with, arm yourself with the right information, partner up with a reliable real estate team, and get rid of unrealistic expectations. Also, we are here to give you some pointers to help you begin your search for the perfect new home. So, here is what you should and shouldn't do during this exciting journey.
The dos of long-distance house hunting
Looking for a house remotely goes beyond checking out listings online and reading about the area. While these are absolutely necessary, there are some other things you must do.
Know exactly what you want
All other steps of long-distance house hunting will depend on this first, critical one. You have to sit down and create a list of features you want your new house to have. Of course, it is essential to be realistic. You may have an image of your dream home in your mind, but you have to accept that the houses you can purchase won't match it entirely. Therefore, you have to note down what your must-haves are and what the deal-breakers would be. These will be the points you won't compromise on. Then, think of all the other features that would be nice to have, but you can live without.
Here is what you should consider when you begin thinking about what you want and need:
the size of the house
the number of rooms
layout (do you want an open floor plan)
do you need a home office
the size of the yard
the number of bathrooms
school district
how kid-friendly the neighborhood is (parks, sports centers, playgrounds, etc.)
proximity to essential amenities (transport, shops, hospitals, etc.).
Add to the list anything you deem important and whatever your unique necessities are.
Hire a top-notch real estate team
The only reason why this is not the first entry is that you have to know what to tell your real estate agent. They will help you look for a home by being your eyes basically. So, they have to know what to look for.
When you begin your search for a reliable real estate agent, you have to look for someone with experience with long-distance relocations. That will imply that this agent has the technology necessary to successfully navigate the entire remote house hunting and home buying process. For example, they have to provide you with virtual tours, video calls, e-signing options, etc. When looking for a home remotely, a lot happens online, and your agent has to facilitate this.
Aside from these technicalities, you also want to work with an agent who will communicate with you on schedule, who will be available when you need them, and who will make an effort to understand your needs, taste, and preferences, and respect your budget. Also, you need someone knowledgeable about the area, who can ensure you get the most for your money.
Decide on the budget
It goes without saying that you should do your own research about the area as well. You are lucky to live in the times when the entire world can fit in your palm. So, get online and read about the area, specifically regarding home prices. Just by looking at online listings, you can get a pretty decent idea of what home prices are in different neighborhoods.
Moreover, the internet can help you get a pretty good idea of the cost of living in the new city. So, consider the cost of gas and other utilities, public transport, childcare, and groceries, but also prices at restaurants and cafes. Knowing how much it will cost to live in the new city will help you determine your budget. You will get a realistic picture of what you can afford.
The don'ts of long-distance house hunting
Knowing what to do in certain situations is important. But knowing what not to do is critical.
Don't decide on anything before you visit the home in person
Your agent will help you narrow down your options. They may even help you find the one house that completely fits the bill. And while pictures, virtual tours, and video calls can help you get an idea of what the place is like, nothing beats seeing everything with your own two eyes. So, once you have found something you believe is the right option for you, make sure you visit it in person.
Ideally, you should plan for two visits. During the first one, you should meet your agent, drive and walk around the area, and maybe even sit at a restaurant. Become familiar with the place a bit. And during the second visit, you should look at the home you like and make the final decision.
Don't attempt a DIY long-distance move
DIY relocations are an option sometimes. But considering that even local moves can be demanding when moving to a new province, we strongly recommend hiring movers. Also, make sure you have a plan for the relocation. Create a moving checklist, for example. If you want to ensure an easy transfer to another part of the country, you need the help of professionals and some good old planning.
Don't feel pressured, and don't rush
It takes time to find the right home for you. So, don't let the pressure make you move too quickly or settle for a home you will later regret buying. Even if you have a deadline, make sure you visit the area and look at the house you are considering. You may have to work faster, but it pays off not to skip any steps. Also, when you travel to a new area for a visit, you may even speed up the process. See a few homes, get the feel of the neighborhood, and make decisions faster.
Final comments
Long-distance house hunting is admittedly not an easy feat. However, it is more than doable. With the right professional help and some research, you will quickly find a home that will fulfill your requirements. It's crucial to determine what you want and how much you can afford. Start there, and everything will go much more smoothly.