Your Home Sold Guaranteed or We'll Buy It*!
Welcome! You've found the best Realtor and Real Estate Team in Edmonton, Alberta according to www.BestInEdmonton.com.
Are you looking for an honest, connected, hard-working team to sell your home in Edmonton? That's our specialty! We work hard to represent buyers and sellers in the area. We're so confident in the ability of our team to sell your home, you can cancel your Listing Agreement at any time prior to receiving an offer to purchase your home, with no penalties or obligations, if you feel our service doesn't live up to our promise.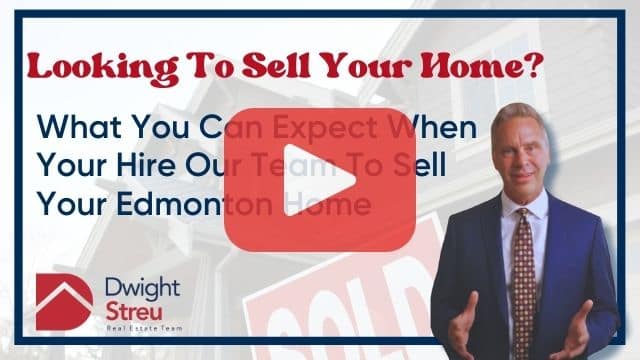 Home Seller Guarantees
When you work with the Dwight Streu Real Estate Team, you'll get guarantees other agents simply can't give you. For starters, Dwight will Guarantee to Sell Your Home or They'll Buy It*
Plus, there are many more written guarantees that will make your experience risk and hassle free:
Easy Exit Guarantee
6 Seller Satisfaction Guarantees
Guaranteed Sale Program
By choosing to work with the Dwight Streu Team you'll be guaranteed a good outcome. Dwight is so confident that he's willing to take on all the risk so you don't have to take on any. It's a literal guarantee to get you the best results when you buy or sell a home in Edmonton.
The Dwight Streu Real Estate Team Serves the Community Big!
In addition to providing the best real estate services in the area, Dwight and the team also invest back in to the local community. As members of the Edmonton community, they invest back by donating a portion of the income they receive from every home sale to local charitable causes. In fact, they are on a mission to contribute $100,000 to Make-A-Wish to grant wishes to children with critical illnesses.

Was Your Edmonton Home Listed But Didn't Sell?
Don't be discouraged, the Dwight Streu Real Estate Team also specializes in homes that other agents can't sell. Many times a home hasn't sold because the listing agent hasn't presented it to the current market in an appealing manner. It's important to create a true representation while highlighting the best parts of your home and creating the aura of "possibility" when marketing difficult properties. We've perfected those tactics.
What is a Listing or Seller's Agent?
It is the responsibility of a listing agent to list the property for sale, coordinate with other agents to show the property, and negotiate the sale with potential buyers. As part of their work, listing agents assist sellers in determining the best price for their property and assist them in preparing the property for sale by making recommendations for repairs and improvements. All of the paperwork and legal aspects of the transaction are handled by them as well.
What Does a Listing or Sellers Agent in Edmonton do?
In order to sell a home, a listing agent is responsible for many tasks and activities. Among them are:
Marketing the property: Listing agents are responsible for creating a marketing plan to showcase a home and attract potential buyers. This could include taking professional photos, creating a virtual tour, and listing the property on multiple online platforms.
Showing the property: Listing agents are responsible for coordinating and conducting property showings for potential buyers. This could involve scheduling appointments, accompanying buyers on tours, and answering any questions they may have about the property.
Negotiating offers: Listing agents are responsible for managing the negotiation process when it comes to offers on a property. This could involve reviewing offers, providing guidance and advice to the seller, and negotiating on behalf of the seller to achieve the best possible price and terms.
Managing the closing process: Listing agents are responsible for overseeing the closing process, which includes coordinating with the buyer's agent, handling any necessary paperwork, and ensuring that all legal requirements are met.
Providing guidance and support: Throughout the process of selling a home, listing agents are responsible for providing guidance and support to the seller. This could involve answering questions, addressing concerns, and providing advice on preparing a home for sale and attracting potential buyers.
In addition to these core responsibilities, listing agents may also be involved in other aspects of the home-selling process. This could include conducting market research to determine the best listing price for a property, providing staging advice to help sellers prepare their homes for showings, and working with lenders and other professionals to facilitate a smooth and successful sale. Overall, the role of a listing agent is to provide expert guidance and support to sellers and help them achieve their goals.
How Do I Find A Great Listing Agent in Edmonton?
When looking for a good listing agent, there are several factors you may want to consider. Some key qualities to look for include:
Experience: A good listing agent will have experience selling homes in your area. Choose an agent who has been in business for a while and has sold homes quickly and for a good price.
Knowledge of the local market: A good listing agent should have a thorough understanding of the local real estate market, including current trends, property values, and the best marketing methods.
Strong & Consistent communication skills: A good listing agent can effectively communicate with you and provide regular updates about the progress of your home sale. They should also be able to answer your questions and negotiate on your behalf.
Access to Local Resources & Networks: A good listing agent has access to a wide range of resources and networks that can help you sell your home quickly and for a good price. Your home can be marketed using marketing tools and resources, as well as access to other agents and potential buyers.
Trustworthiness & Integrity: The listing agent should be professional, trustworthy, and honest. They should be able to provide references and recommendations from previous clients, and should be willing to work with you to achieve your objectives.
Contact the Dwight Streu Real Estate Team Today!
---
Areas and Communities We Serve Include:
Edmonton, Leduc, Beaumont, Stony Plain, Spruce Grove,
Sherwood Park, St. Albert, Rural Strathcona County
If you're ready to list your home and get it sold, fill out the form below to learn more about how Dwight Streu can help. We'll show you what nearby homes sold for, review your property and upgrades, and help you come up with a fair valuation that will get your home sold for top dollar, in a reasonable amount of time. To contact the Dwight Streu Real Estate Team, fill out the form below or CALL or TEXT 780-462-5002!
Get a complimentary Home Evaluation to find out how much your Edmonton Home is Worth