Sell Your Home with Certainty with Our Exclusive Guaranteed Sale Program!
While many agents will promise to sell your home, the reality is that this doesn't always happen. Even if the home eventually sells, the homeowner often ends up with a selling price far less than they may have expected.
Our Guaranteed Sale Program solves this problem for Edmonton area home sellers. This program guarantees the sale of your home, upfront and in writing, at a price agreeable to you. If your home doesn't sell, we will buy it from you for the agreed-upon price!
Benefits of Our Guaranteed Sale Program Include:
A Guaranteed sale at an agreed-upon price and timeframe
Peace of mind in house-hunting as you know your current home is already sold
It allows you to finance the purchase of your new home prior to selling your current home
You can make concrete moving plans instead of putting your life on hold
Complete flexibility to accept higher offers
100% of the profits go back to you if we buy and resell the home at a higher price within one year
No risk for the seller. Cancel the listing and/or guarantee anytime.
The best part about our Guaranteed Sale Program is that you eliminate the usual stress and worry that most home sellers have: no conditional offers, no emotional roller coaster, and no chance of getting stuck owning two homes. Our Guaranteed Home Sale Program makes the house-hunting process much easier because you know your home is guaranteed to sell.
Frequently Asked Questions about Our Guaranteed Sale Program
Why would I want a guarantee?
Many people want a guarantee because it provides 100% certainty that their home will be sold for a set price and timeframe. This allows them to make concrete moving plans rather than not knowing when or if they will sell. Others want a guaranteed sale in place because it allows them to purchase and finance their new home before putting their current home up for sale. Others come to us for a guarantee because they are facing foreclosure and have been given a timeline for when they need to sell their home in order to avoid foreclosure.
How do you determine the guaranteed price?
To determine the guaranteed price, we must conduct a thorough in-person evaluation of your property. We then prepare a detailed market analysis of your property by comparing it to similar homes in your neighbourhood that have recently sold. We review this analysis with you so that you can see exactly how we arrived at your guaranteed price.
Can I list higher than the guaranteed price?
Absolutely! In fact, we encourage it. Because we don't know exactly how much your home will sell for, it's possible that it may sell for slightly less or slightly more than what we expect. We usually allow up to 90 days to try selling it for more than the guaranteed price. If at any time you get an offer above the guarantee price, you can accept it, and the guarantee offer is voided without cost or penalty.
Are you trying to buy my home below market value to make a profit?
Absolutely not! Unlike other companies that want to buy your home for 80 to 90% of market value, we do NOT want to buy your home. If we end up buying your home, it means we erred on the evaluation, and your home was not worth as much as we thought it was. It is rare that we actually buy a home, as that would normally result in a loss for us. If we were to buy your home and then sell it within the next year for a profit, we would give you 100% of the profit. This way, you can be assured that we do not want to buy your home to flip it for a profit.
How does your Guaranteed Sale Program differ from other companies that will purchase my home without showings or going on the market?
These are very different programs. If you must have the equity out of your home fast, our Guaranteed Sale Program may not be your best choice. While it is possible we will sell your home quickly, we cannot guarantee it. In that case, a "cash offer" program may be a better fit for you. Cash offer type companies will provide your equity faster but at a steep cost - typically 10 to 15% of market value in addition to other fees. If you must sell fast, a better option is to price your home 2-5% below market value, which will nearly always result in a quick sale.
Our guaranteed sale program is designed to ensure you sell your home for FULL MARKET VALUE with the added security of knowing your home is 100% guaranteed to be sold. However, in order to achieve this, we need more time and typically want 90 to 120 days to ensure we are providing sufficient time to market your home optimally. Depending on the property, we may be willing to provide a guarantee with a shorter time frame.
Will you offer a guarantee on any property?
No. The property needs to be in the Greater Edmonton area and must be a residential property. In addition, it needs to be in reasonably good condition with no significant structural problems. Also, we need to be able to reasonably determine the market value. Some rare or unique properties can be difficult to determine the value, and it would be unfair for you and us to have to guess at the market value.
Can I get independent advice?
Absolutely. Again, we encourage it. You may want to have an independent appraisal done to ensure the guarantee is reasonable, and you may want to have a lawyer review the guarantee sale contract to ensure you are entirely comfortable and there will be no surprises.
How do I get started?
If you are interested in pursuing a guaranteed offer or have more questions, you can fill out the form below or contact us today!
We will make arrangements to view your property to determine if it qualifies for a guarantee and prepare an in-depth market analysis, which we will review with you in person. There is no cost, and you are never under any obligation to accept a guarantee or to list your home with us.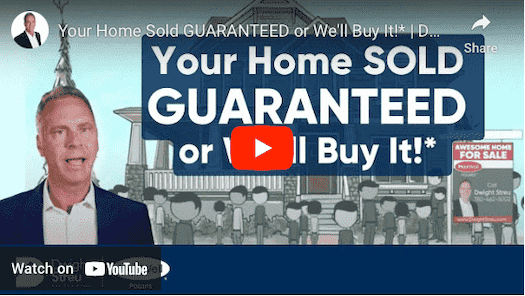 * Conditions apply. Guarantee by MaxWell Polaris.
For a Free Home Evaluation or to Learn More About Our Guaranteed Sale Program Call Us at 587-741-6084 or Fill Out the Form Below!